Langer Patent X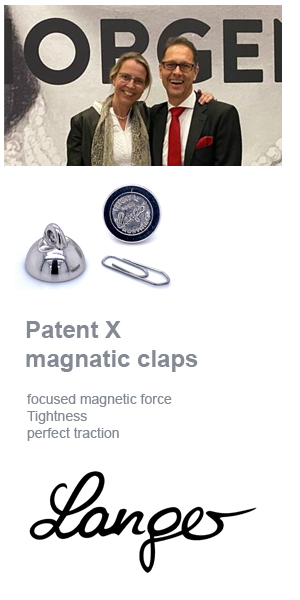 Inquired at the manufacturer
Boley has made himself smart for you at Langer Magnetschließen and was able to elicit some interesting news and information from the Aichhorn couple.
Gebr. Boley:
How did the idea for the new patent "X" come about?
Aichorn/Langer Magnetschließen:
When wearing bracelets with magnetic clasps, they often attracted magnetic objects such as paper clips, which was perceived as annoying. We wanted to avoid this effect with the development of patent "X". To achieve this, we bundle and center the magnetic force inwards and simultaneously reduce the magnetic radiation outwards. In addition, the demand for ever smaller strong magnets is unbroken.
Boley:
What are the advantages of patent "X"?
Aichhorn:
The shielded magnetic clasp, whose magnetic force is centered in the middle, has a higher pulling force. In addition, the outer shell is better protected and magnetic parts do not get caught. This makes it ideally suited as a bracelet clasp, even when working at a desk or work table.
Boley:
Does this also mean that these magnetic clasps prevent the accidental magnetization of watches or their movements? This is a big problem for watchmakers regarding the accuracy of quartz and mechanical movements. Who is the target group for Patent "X"?
Aichhorn:
People who wear a bracelet with a magnetic clasp parallel to their mechanical watch. Also people with a preference for heavy necklaces, e.g. with stones, due to the strongly bundled magnetic force.
Boley:
How does the pulling power differ from ECO, Classic and Patent "X"?
Aichhorn:
Basically, the pulling force depends on the size of the clasp and thus on the size of the magnet. Not so with Patent X, it increases the magnetic force towards the inner center!
Boley:
Does the pulling force decrease with the wearing time?
Aichhorn:
When worn, the power magnets lose (almost) no tractive force, i.e. 3 percent in 30 years. However, when heated above 60° C (be careful when storing in shop windows/cars or when polishing) the tensile strength can decrease or be lost.