INHORGENTA 2023: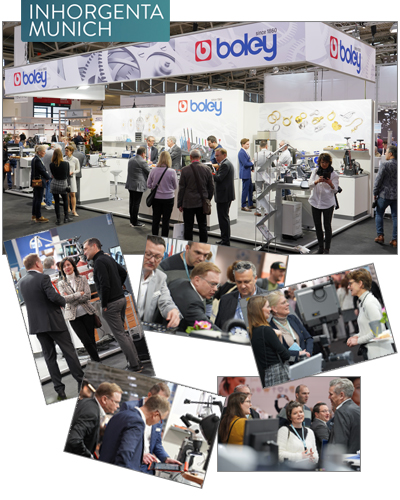 successful trade fair sales
Around 24,000 trade visitors and over 800 exhibitors stand for an impressive balance sheet and a successful return of INHORGENTA 2023 after two difficult years due to Covid. With a 51 percent increase in visitors compared to 2022 and a 40 percent share of foreign visitors, the growth figures are clear and prove the increasing internationalisation of this trade fair. The course for international growth among brands and dealers has thus been set correctly for celebrating the 50th anniversary of INHORGENTA MUNICH next year.
GEBRÜDER BOLEY, exhibitor from the very beginning at INHORGENTA, was back after a two-year absence and was able to point to successful trade fair sales. This year, the focus was on CNC-controlled engraving machines and marking lasers of the Gravotech brand, CNC-controlled watch testers of the ONEOF brand as well as setting and engraving technology from GRS. At our newly designed exhibition stand, we were able to welcome not only familiar faces but also numerous new foreign customers. "We were once again positively surprised by the number of visitors and the good atmosphere at the trade fair and will not miss the 50th anniversary of the INHORGENTA trade fair next year," says Michael Lutz, managing partner of Boley.
......to the follow-ups…