Boley live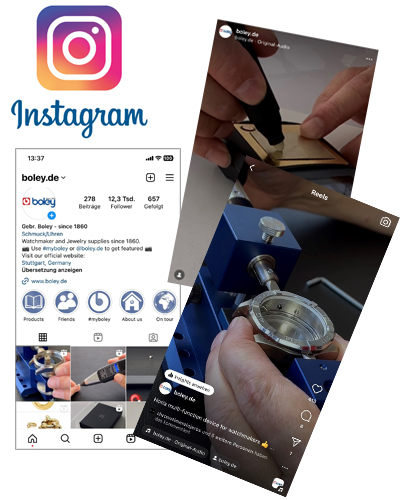 social media

Follow us on Instagram - experience BOLEY live!
Did you actually know that we have passed the magic mark of over 12,000 followers in "B-to-B" (among business partners), making us one of the most contacted Instagram accounts in watch and jewellery technology? And every day there are more!
If you don't want to miss the best pictures and most interesting short videos or online stories from BOLEY, then you should follow us on Instagram. Enter into dialogue with us and learn more about the news, activities and promotions from our company first-hand via photos and videos.
Give us a glimpse behind the scenes of your daily work and show us how you use tools and machines from BOLEY. To do so, tag us in your posts or online stories with @boley.de or use the hashtag #myboley. We will be happy to publish your contributions in our stories.
@boley.de
#myboley