Rhodium baths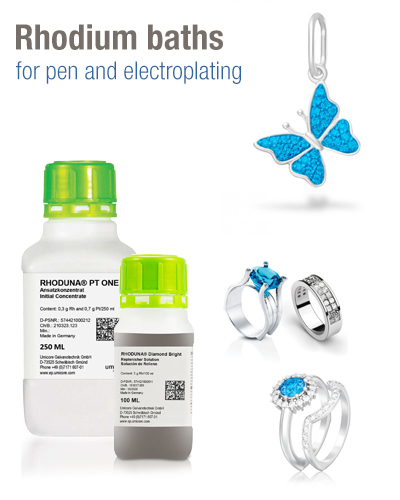 Rhodium has fallen sharply

RHODIUM HAS FALLEN SHARPLY: BUY YOUR CHEAPER RHODIUM BATH NOW!
The price of rhodium has fallen significantly in recent weeks, and we don't want to withhold you of this. Yet rhodium is often more expensive than gold and platinum due to its rarity and increased industrial demand. And yet it represents an important precious metal in the field of jewellery refinement, as it forms a beautiful, brightly shining coating and offers your jewellery pieces excellent protection against tarnishing. To respond to the increased demand, we have increased our stock of rhodium baths. Take advantage of our stock availability and order as soon as possible at the lower rhodium rates.
NEW IN OUR GALVANO-PROGRAMME
Rhodium baths "Rhoduna" of the brand Umicore have been added to our programme. Umicore is one of the world's leading processors of special chemicals and has taken over the production of rhodium baths from Wieland Edelmetalle. In the course of the changeover, a new combination rhodium/platinum bath was also launched, which is available under Boley Art.-No. 695641 as "Rhoduna PT One". This special bath with a proportion of Pt 0.7g and RH 0.3g is characterised by a very advantageous price with a consistently assured gloss and anti-tarnish effect. All "Rhoduna" rhodium baths are operated with platinised titanium anodes.