Boley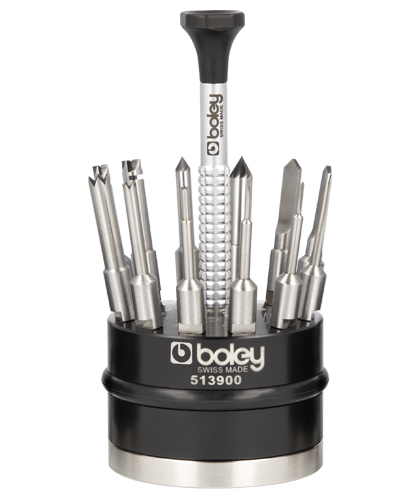 10 years boley own brand

Boley tools - successful for 10 years with the "Boley" own brand
Did you know that the company Gebrüder Boley has been successfully producing its own brand of tools exclusively under the "Boley" private label for almost ten years.
And we regularly maintain and expand this own brand, whereby only tool quality "made in Germany" or "Swiss made" may adorn our own brand. We place the highest value on the high product quality, durability and sustainability of our tools and are in constant contact with our suppliers in Germany or Switzerland, who produce these tools exclusively for us. New products are also created in close cooperation with our long-standing precision mechanic ateliers.
In the past years, Gebrüder Boley has developed into one of the leading tool dealers in the watch and jewelry industry in Europe and the world. We offer one of the most extensive ranges of high quality watchmaking and goldsmith tools: from the classic watchmaker screwdriver to the high quality ring saw pliers "made in Germany" you will find everything from one source at www.boley.de. Because our foreign customers also appreciate the quality of our tools with the own brand "Boley", today almost 35% of all tools are exported.
Currently, you can find about 250 private label "Boley" products online in the Boley online store: just look for our "Boley" logo and the stylized "B" when placing your order. Only Boley private label products are allowed to carry this logo on the tools. We will be happy to answer any further questions you may have about Boley tools by chat or by email at support@boley.de. We thank you for your loyalty and trust in our private label.
Your Boley Team