Movements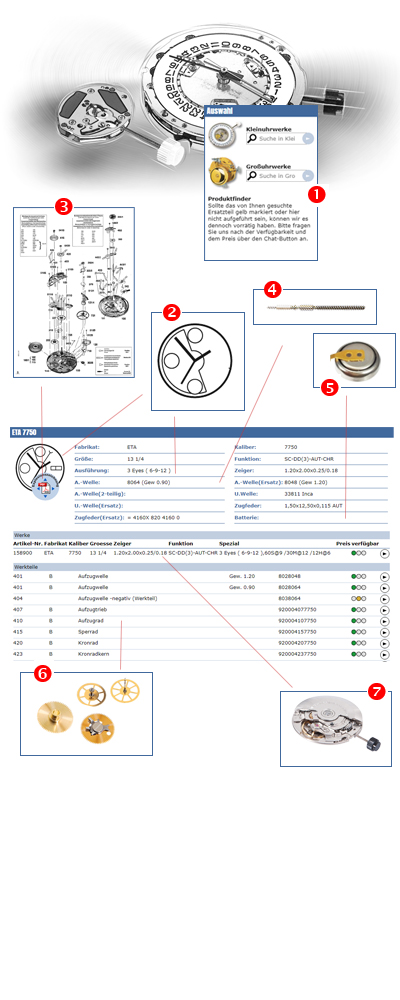 2023 update installed

We have added our major Boley update 2023 to the calibre database. As of now, you will find more than 16,000 calibres, over 4,100 movements and interchangeabilities and approximately 160,000 watch parts registered in our database.
Search our extensive database for calibre information, watch movement interchangeabilities and spare parts and find the matching movement parts listed quickly and clearly.
And this is how it works:
(1) Are you looking for specific spare parts for your repair? Simply enter the calibre number in the corresponding search field and then use the magnifying glass function to select the desired movement from the list.
Tip: The fewer digits you enter, the larger the selection list. This means that even calibre numbers that are difficult to recognise can be found. Conversely, you can also enter the manufacturer and the calibre, which will reduce the selection list and increase your accuracy.


(2) In the calibre data sheet you will find extensive and detailed information about the size and functions of the movement. Many calibres also have a pictogram.


(3) When you see this button, you can call up a detailed exploded view of the movement. The document is displayed using the free Acrobat Reader.


(4) Did you know that you can find out the interchangeability of the winding stems with the help of our calibre database? Compare the part number on our packaging with that of the calibre. Often different movements have the same winding stems. Reduce and organise your own stock and save money.


(5) For quartz or solar movements, the battery number is shown here.


(6) We have archived our spare parts for you under the heading Movement Parts. Here you can find the respective prices and the availability of spare parts.
Tip: If the spare part you are looking for is marked yellow or not listed, we may still have it in stock. Please ask for availability and price via our chat button. Many of our old, in-stock spare parts are currently not yet registered in the database and are just waiting for your request!


(7) In the movements section, we offer you replacement and exchange movements for the calibre you are looking for. Prices and availability are of course immediately visible and will speed up your quotation and procurement.