Battery Rewards 2023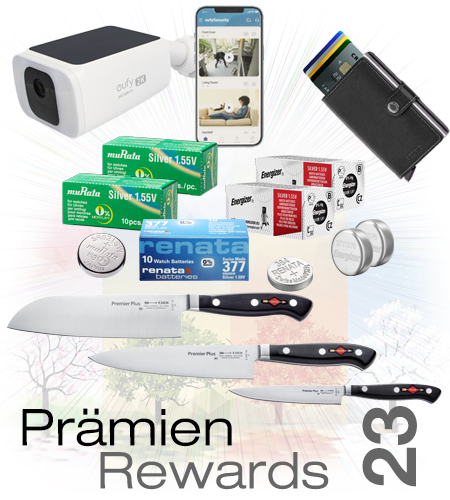 What reward can it be?

Take advantage of our premium Rewards battery campaign for the year 2023 and secure your personal annual bonus Right now.
You have the choice between ENERGIZER, RENATA or MURATA battery packs and get your desired premium free of charge when purchasing 1, 3 or 5 packages (see pdf for conditions of participation).
The purchase of these packages can be spread over the whole year 2023 according to your individual battery requirements. The final invoice for the annual premium will only be issued at the end of 2023.
These battery packs cannot be combined with other premium promotions. Delivery while stocks last!
Compact wallet - SECRID MINIWALLET BLACK
The iconic wallet and the perfect all-rounder. The Miniwallet is compact in size, but offers a surprising amount of space and fits in any pants pocket.
Super-sharp knife set - DICK Premier Plus EURASIA
With the Premier Plus series, your knife works almost by itself. All Premier Plus knives are forged and perfectly balanced. The blade is made of the high-quality steel alloy X50CrMoV15. Blade symmetry in classic Japanese design.
Eufy Solocam S40 Solar - Smart Surveillance Camera
Impressive A.I. based surveillance camera for your business or home. App-controlled in premium 2K color resolution - full color even at night - and with integrated solar panel for wireless, easy installation.
---