Flexbo 2.0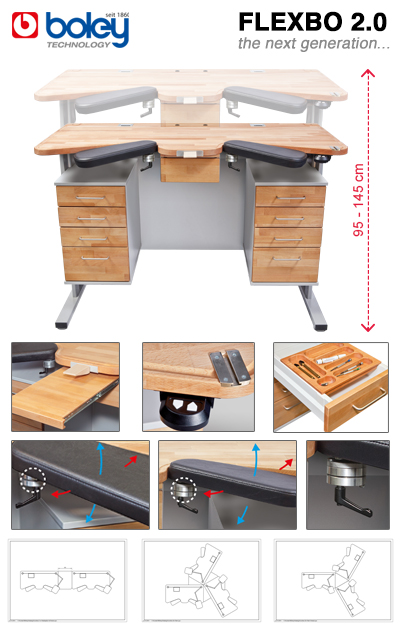 Experience the new, innovative Flexbo 2.0 workbench concept.
"Flexbo 2.0 - the next generation..."
... the innovative workbench concept,with individual equipment for watchmakers...
- made in Germany!
Perfect your spatial concept:
We offer you maximum individuality by freely selectable system components that can be eaily adapted to each workshop concept. Timeless design, highest quality and carefully designed functionality - made in Germany. We are your competent partner when it comes to your workshop equipment.
We set standards:
Our Flexbo equipment lines offer you as watchmaker the most innovative workbenches for your workshop. Through a variety of individual accessories you get maximum flexibility. So - Flex it!
Impressive in function and design:
Complete with these equipment packages your Flexbo workshop equipment specifically depending on the job requirement or personal style.
Standard equipment:
• Flexbo 2.0 - ergonomic work
• 3D armrests - freely moveable in leather imitation
• Multifunction center drawer - additional storage space
• Pull-out shelf board - for stripping, bracelet assemblage or change the battery between
• Insertion device for the filling pin - for sawing
• 2x drawer stack - one right and one left
• High end drawers - with full extension and soft close
• Power supply - 5-fold multiple socket
• Professional cable channel - on the back of the bench
download