Elmasolvex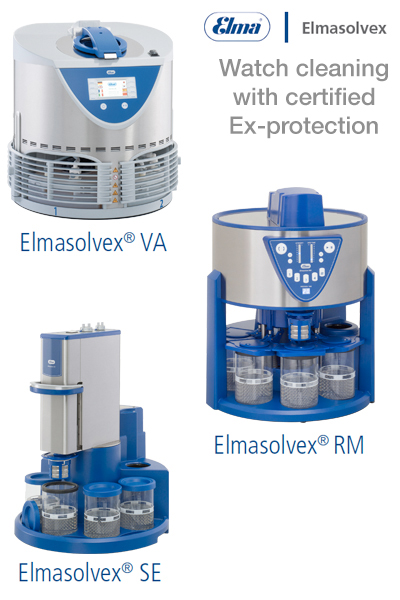 Elma: a new dimension of watch cleaning!
Elmasolvex VA - Elmasolvex RM - Elmasolvex SE
Watch cleaning with certified Ex-protection.
The new Elmasolvex machine series is designed for all typical applications in the process of cleaning movements, both in production and in after-sale service: so you experiences the best possible service for your watch.
Elmasolvex VA:
for watch producers and repair centers, who use ultrasonic.
The most technically demanding machine is Elmasolvex VA: this watch cleaning machine has both multi-frequency ultrasound in the normal board and component cleaning and a special frequency for very difficult, requiring very careful cleaning. (eg, reflective surfaces, finest holes) technisch anspruchvollste Maschine ist die Elmasolvex VA.
The cleaning takes place in a chamber in which the cleaning and rinsing solutions are changed automatically. The programs are configured and started quickly and easily with a high resolution color display. There are proven standard programs or alternatively also an expert mode, which allows the watchmaker to set and save its parameters individually granted.
Elmasolvex RM:
automatic operation, for manufacturers, service centers and watchmaker workshops, who clean with the traditional rotation and oscillation method.
For service centers and workshops watchmaker who work according to the conventional rotation and oscillation method, the Elmasonic RM offers the proven multi-chamber technology. Here, both solvent and semi-aqueous cleaning process can be performed. In a program variant can also be epilamized.


Elmasolvex SE:
manually operated, for watchmaker workshops with smaller quantities of works to be cleaned.
For small quantities of disassembled movements to be cleaned in rotation method and where conventional cleaning is sufficient, the "Icon of watch cleaning, the Super-Elite" is newly developed. There is not just one more chamber (1x cleaning, 3xrinsing 1x drying), but also a sophisticated hand operated control concept.